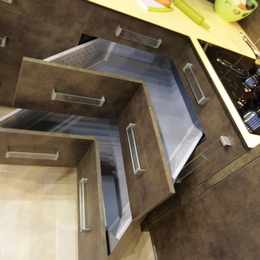 Furniture made to measure production is a completely different experience both for the client and the manufecturer compared to purchasing the ready made furniture. Thus, in our case, there is no limit when buying furniture, since everything is available:individual design, different materials and colour, fitting by function-adaption to one's own needs of living and that can be fulfilled at "Blagojev naslednik" by getting furniture by your measures.
Everything starts with an idea, and a place to get an idea are our salons.There stats a process of making your furniture.Together with our designers you create and exchange ideas.After that, the ideas come to realisation, and the first operation is taking measures of space and installations at your home.We also use that time to get to know each other better so that we can fulfill your idea for the furniture. Then, we do the design and project taking into consideration funcionality and ergonomics of the furniture.

After your accepting the project, we start producing the furniture. The deadline to finish the production is usually 30 days, since this is and ideal deadline to make a quality furniture. During the produduction each part is being controlled as not to miss anything.Our skilful workers, using modern machines, carefully make each element thus completing the whole project. After the production and control the furniture is packed and ready for delivery.

The delivery and assemble of the furniture last for 1-3 days ,depending on the furniture and number of pieces to be assembled. The kitchens take longest to assemble-at least two days. Our assembly workers are professional and kind, fast and precise.The assembly is very imortant process since it is the mirror of our house.

This is the whole process that we have been performing and improving for years.
| | | | | | |
| --- | --- | --- | --- | --- | --- |
| | | | | | |
| Measuring | Ideas | Design | Production | Transport | Assembly |