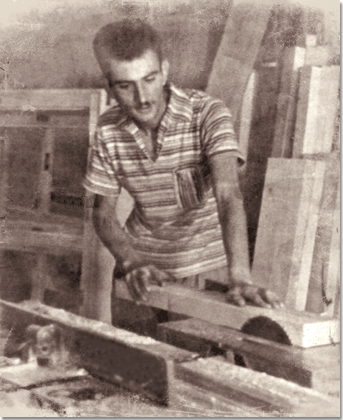 Family textiles "Blagoje" started working in 1967. The founder and the only artisan in the family started his carpenter art and woodwork. By buying the first "real" carpenter machines in 1968 he started, unawares, the job that has been in existence so far.
Today it is a family firm, a modern workshop that produses furniture made to measure.
The carpenter workshop "Blagojev naslednik" has a family tradition in woodworking fo 45 years. Since 1984, under this name, in the memory f the founder, we started making modern furniture made to measure, adapted to the eeds of modern man. In that time aand in a few following years the main meterial was wood and ten years later th furniture was made of univeer and mediapan (MDF).It was necessary then to substitute old machines with new ones and to improve the adapt our knowledge.It was a severe test for us and an obligation to all our employees at the moment as well as to the founder of the firm-t theo adapt-to keep on the tradition.
Not so long ago-ten years ago-we had to take the same test.We grew out of our small workshop and we have to make a decision how to develop our firm. Then, in 2003, in Markovac, near Mladenovac, we built a production hall of 1000m2, equipped with most modern machines for making furniture and we adapted it to its purpose.
From that moment on all our attention has been focused on quality project and design of furniture madee to measure.We opened our first furniture made to measure salon in Belgrade, and we had our first exhibition at the Belgrade fair.We open the door to our clints and we became more accessible to a umber of buyers.
Today, hundreds of our projects in private apartments is a proof of this and we regard this as our greatest reference.
As a proof that hard work is worth as well as persistence in choosing qulity materials and good producion, is shown by ur last exhibition at the Belgrade fair when we were awardd 'Golden key' for our kitchen "X-Tand". Besides keeping quality work at all costs, this award also means hat we managed to succeed in all the changes in modern desing as well as in technology.
The long- term experience, tradition and persistence brought the fact that today we have completed the whole process, from projecting, over production to assembly. Everything is in hands of our 25 employees :the designers in salons, engineers and carpntes in workshops, drivers and assembly workers, overlooked by our monitor.
We are proud of the fact aht we exist for nearly 50 years and that we have no plans to stop solving tests that await us in the future.